Personal Injury Attorneys Serving Lindenhurst, Illinois
Lindenhurst, Illinois
Call 24/7/365 - We'll Come to You!
Toll Free: 1-800-800-5678
Open Always - Chat Live With Us Now!
Walk-In Hours:
The Wisconsin, Illinois, and Iowa personal injury attorneys of Hupy and Abraham know what you're dealing with after being involved in an accident. Whether you've been hurt in a Milwaukee car crash or Illinois motorcycle accident, you are facing some serious challenges and we're here to help.
Lindenhurst's motto—"Developing Today for Tomorrow"—reflects the community's desire to plan for the future in a positive way. With just a population of over 14,000, past-Village Administrator, James Stevens, said that Lindenhurst "has been able to keep the small-town flavor, in large part, through selective land annexation, and by carefully choosing developers for high quality but diversified housing types, including single family, town homes, and condominiums. And all the housing types have to be integrated with the lakes, marshes, open space, and forested areas of the village."
If You're Hurt in Lindenhurst
Even in small town America, where the pace may be a bit slower and there are less people, it's still possible to be hurt in personal injury accidents due to someone's negligence. When you suffer a serious injury such as a brain injury, a spinal cord injury, a broken bone, or an internal injury, it's important that you take action quickly in order to protect your rights. If you fail to take critical first steps, you may be left to pay expensive medical bills on your own, as well as face lost income and out-of-pocket expenses.
Our experienced lawyers want to help you receive a fair recovery if you're hurt due to someone else's negligence. Contact us for a free consultation to learn more about your rights. If you choose us to represent you, we will be paid on a contingency fee basis—meaning, you have no upfront legal costs, and our fees will be paid when your case settles.
To learn more, reach out to us via this website to schedule a no-obligation initial meeting with a Gurnee lawyer.
Gurnee Office Directions
Lindenhurst Driving Directions
Heading south on Briar Lane toward Sunset Lane
Turning left on Valley Road
Turning right on Sand Lake Road
Turning left on IL 132 E/E Grand Ave
Turning right onto Almond Road
Turning left onto W Washington Street
Our office will be on your right: 6475 Washington St #105, Gurnee, Illinois.
Testimonials by Hupy and Abraham Clients
I was overwhelmed after getting hit by a teenager, my Road King was totaled and I went through multiple surgeries and medical treatments that continue even 5 years later. Much of the burden and anxiety of going through an accident disappeared after signing up. I was so glad they were in my corner! Thank you Mike Hupy, Jason Abraham and attorney Vito for helping me through this process! I highly recommend this firm for anyone involved in any type of accident.
Written by: Linda Jo
about Hupy and Abraham
Date published: 07/4/2015
5 / 5 stars
Overall rating: ★★★★★ based on 1 reviews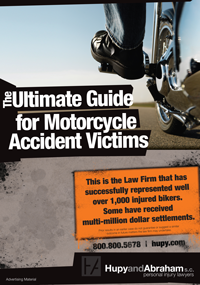 The Ultimate Guide for Motorcycle Accident Victims
Hurt in a Wisconsin, Illinois or Iowa motorcycle wreck? You need our ULTIMATE GUIDE FOR MOTORCYCLE ACCIDENT VICTIMS. Order your copy today for FREE.
Request Information +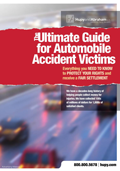 The Ultimate Guide for Automobile Accident Victims
This FREE guide contains everything you need to know to protect your rights and get fair treatment after a serious Wisconsin, Iowa, or Illinois auto accident.
Request Information +