Personal Injury Attorneys Serving Libertyville, Illinois
Libertyville, Illinois
Call 24/7/365 - We'll Come to You!
Toll Free: 1-800-800-5678
Open Always - Chat Live With Us Now!
Walk-In Hours:
The Wisconsin, Illinois, and Iowa personal injury attorneys of Hupy and Abraham know what you're dealing with after being involved in an accident. Whether you've been hurt in a Milwaukee car crash or Illinois motorcycle accident, you are facing some serious challenges and we're here to help.
Libertyville, Illinois is a village that seems to have it all. Money magazine lists it as one of the top 100 small towns to live in and one of the best places for wealthy single people to live. Libertyville has an award-winning school system, numerous parks, and many businesses, and it is a suburb of Chicago. It is easy to get to and from Libertyville on I-94, I-294, I-90, and IL-53.
When Accidents Happen in Libertyville
The major interstates and roads in Libertyville see a significant amount of traffic. Milwaukee Ave and Petersen/Buckley Rd. each have average daily traffic of 32,000 or more vehicles. With this many vehicles on the road, a negligent driver can cause a dangerous collision. Additionally, accidents can happen on private properties, as well. A dog bite or a slip and fall can result in a victim suffering serious and irreparable harm.
Our experienced Illinois personal injury lawyers are here to help you if you have been hurt or if a loved one has been killed in a Libertyville accident. We will take the time to get to know you, learn how the accident impacted your life, and work hard to get you the fair recovery you deserve.
If you've been injured in a personal injury accident, we invite you to contact us via this website or by phone to schedule a free, no-obligation consultation in our conveniently located Gurnee office.
Gurnee Office Directions
Libertyville Driving Directions
Heading west on E Park Ave toward S Milwaukee Ave.
Turning right at the first cross street onto IL-21 N/N Milwaukee Ave.
Turning left onto Cty A24/Gages Lake Rd.
Turning right onto S Hunt Club Rd.
Turning right onto W Washington St.
Our office will be on your right: 6475 Washington St #105, Gurnee, Illinois.
Testimonials by Hupy and Abraham Clients
I was overwhelmed after getting hit by a teenager, my Road King was totaled and I went through multiple surgeries and medical treatments that continue even 5 years later. Much of the burden and anxiety of going through an accident disappeared after signing up. I was so glad they were in my corner! Thank you Mike Hupy, Jason Abraham and attorney Vito for helping me through this process! I highly recommend this firm for anyone involved in any type of accident.
Written by: Linda Jo
about Hupy and Abraham
Date published: 07/4/2015
5 / 5 stars
Overall rating: ★★★★★ based on 1 reviews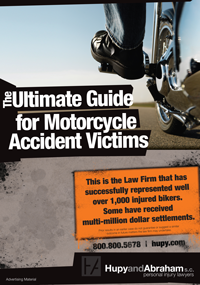 The Ultimate Guide for Motorcycle Accident Victims
Hurt in a Wisconsin, Illinois or Iowa motorcycle wreck? You need our ULTIMATE GUIDE FOR MOTORCYCLE ACCIDENT VICTIMS. Order your copy today for FREE.
Request Information +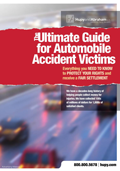 The Ultimate Guide for Automobile Accident Victims
This FREE guide contains everything you need to know to protect your rights and get fair treatment after a serious Wisconsin, Iowa, or Illinois auto accident.
Request Information +