Personal Injury Attorneys Serving Huntley, Illinois
Huntley, Illinois
Call 24/7/365 - We'll Come to You!
Toll Free: 1-800-800-5678
Open Always - Chat Live With Us Now!
Walk-In Hours:
The Wisconsin, Illinois, and Iowa personal injury attorneys of Hupy and Abraham know what you're dealing with after being involved in an accident. Whether you've been hurt in a Milwaukee car crash or Illinois motorcycle accident, you are facing some serious challenges and we're here to help.
Huntley, Illinois, describes itself as a "Friendly Village With Country Charm." Residents and visitors can enjoy a weekly farmer's market in the warmer months, outdoor concerts and movies, a fall festival, and holiday events such as the Turkey Testicle Festival and A Very Merry Huntley.
Over the past decade, there have been improvements to roads in the Huntley area. There is now a full interchange for Interstate 90 at Illinois Route 47. Illinois Route 47 runs north and south and had several lanes added around 2011.
Don't Let a Huntley Accident Lead to Hard Times
Even with the road improvements, Huntley residents and visitors are still at risk of being hurt in motor vehicle accidents or other types of personal injury accidents. If you suffer an injury then you may incur significant medical expenses and be out of work. You may also suffer serious physical and emotional pain.
If you do nothing then you will have to deal with the consequences of your accident on your own. However, it doesn't have to be this way. Instead, you have the right to make a full and fair financial recovery if you can prove that someone else's negligence caused the accident that led to your injuries.
Our Rockford personal injury lawyers are here to help you at every step of the way. It is our mission to go above and beyond the call of duty, to help you in any way that we can, and to offer you the best possible representation from the beginning of your case until its conclusion. With those goals in mind, we want to know more about the accident that left you injured. If you have a viable Illinois personal injury claim then we will advise you of your rights and legal options so that you can protect your recovery of past and future medical expenses, lost income, out-of-pocket costs, pain, and suffering.
To get started, please contact us today for a free initial case evaluation at our Rockford office.
Rockford Office Directions
Huntley Driving Directions
Heading north on IL 47 N toward Main St.
Turning left at the first cross street onto Main St.
Turning left onto Co Hwy 31.
Turning right onto Harmony Rd/Harmony Huntley Rd.
Turning left onto US 20 E.
Turning right and then keeping right at the fork following signs for I 90 W/Rockford.
Merging onto I 90 W.
Taking the US 20 BUS/State St exit.
Keeping right at the fork, following signs for Rockford and merging onto US 20 BUS W/E State St.
Turning right onto N Bell School Rd.
Turning left onto Guilford Rd.
Turning right onto N Perryville Rd.
Turning left onto Rote Rd.
You will arrive at our office: 6952 Rote Rd #200, Rockford, Illinois.


Testimonials by Hupy and Abraham Clients
Hupy & Abraham, S. C. are very hardworking. They care about their clients and are honest. I would refer them to everyone I know.
Written by: Laura Lopez
about Hupy and Abraham
Date published: 07/4/2015
5 / 5 stars
Overall rating: ★★★★★ based on 1 reviews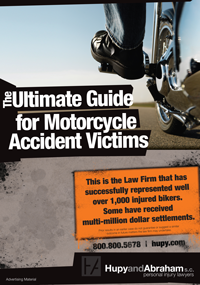 The Ultimate Guide for Motorcycle Accident Victims
Hurt in a Wisconsin, Illinois or Iowa motorcycle wreck? You need our ULTIMATE GUIDE FOR MOTORCYCLE ACCIDENT VICTIMS. Order your copy today for FREE.
Request Information +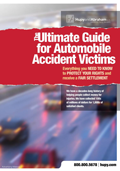 The Ultimate Guide for Automobile Accident Victims
This FREE guide contains everything you need to know to protect your rights and get fair treatment after a serious Wisconsin, Iowa, or Illinois auto accident.
Request Information +