Personal Injury Attorneys Serving Harvard, Illinois
Harvard, Illinois
Call 24/7/365 - We'll Come to You!
Toll Free: 1-800-800-5678
Open Always - Chat Live With Us Now!
Walk-In Hours:
The Wisconsin, Illinois, and Iowa personal injury attorneys of Hupy and Abraham know what you're dealing with after being involved in an accident. Whether you've been hurt in a Milwaukee car crash or Illinois motorcycle accident, you are facing some serious challenges and we're here to help.
Located between Chicago, Milwaukee, and Rockford is the city of Harvard, Illinois. Harvard offers easy access to these three urban areas. Routes 14, 23, and 173 run through the city. Yet, Harvard maintains its small-town feel and the area has the largest acreage of dedicated conservation land in the State of Illinois.
Do You Know What to Do After a Harvard, Illinois Accident Injury?
If you are hurt on a Harvard road, at a Harvard business, or even on someone else's private property in Harvard, then you may have the right to recover personal injury damages. However, before you can get those damages you will need to prove that someone else was negligent, that the negligence caused your injuries, and that you are legally entitled to damages.
You don't have to fight for your own recovery, however. Instead, you have the right to hire an experienced Illinois personal injury lawyer to represent your legal interests and to pursue a claim on your behalf.
Our Rockford injury lawyers get to know each and every client whom we represent. You will never be just a case number if you decide to work with us. Instead, we will get to know as much as we possibly can about the accident that hurt you, about the injuries you suffered, and about how those injuries impact your life. Then, we will use that information to fight for your full and fair recovery with the insurance company and, if necessary, in court.
To learn more, we encourage you to reach out to us via this website, by phone, or by text at your convenience. We would be pleased to schedule a free, no-obligation consultation with you in our Rockford office.
Rockford Office Directions
Harvard Driving Directions
Heading south on N Division St toward W Diggins St.
Turning right onto IL 173/W Brink St.
Continuing to follow IL 173.
Turning left onto IL-76 S/Fairgrounds Rd
Turning right onto Spring Creek Rd.
Turning left onto N Lyford Rd.
Turning right onto Rote Rd.
You will arrive at our office: 6952 Rote Rd #200, Rockford, Illinois.


Hupy & Abraham, S. C. are very hardworking. They care about their clients and are honest. I would refer them to everyone I know.

Written by: Laura Lopez

about Hupy and Abraham

Date published: 07/4/2015

5 / 5 stars

Overall rating: ★★★★★ based on 1 reviews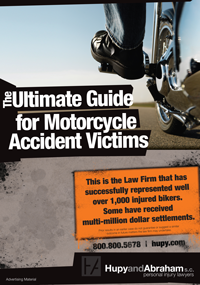 The Ultimate Guide for Motorcycle Accident Victims
Hurt in a Wisconsin, Illinois or Iowa motorcycle wreck? You need our ULTIMATE GUIDE FOR MOTORCYCLE ACCIDENT VICTIMS. Order your copy today for FREE.
Request Information +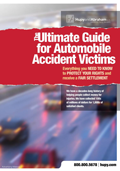 The Ultimate Guide for Automobile Accident Victims
This FREE guide contains everything you need to know to protect your rights and get fair treatment after a serious Wisconsin, Iowa, or Illinois auto accident.
Request Information +