Personal Injury Attorneys Serving East Peoria, Illinois
East Peoria, Illinois
Call 24/7/365 - We'll Come to You!
Toll Free: 1-800-800-5678
Open Always - Chat Live With Us Now!
Walk-In Hours:
The Wisconsin, Illinois, and Iowa personal injury attorneys of Hupy and Abraham know what you're dealing with after being involved in an accident. Whether you've been hurt in a Milwaukee car crash or Illinois motorcycle accident, you are facing some serious challenges and we're here to help.
Over the past decade, a lot has changed in East Peoria, Illinois, and a lot still remains the same. East Peoria is a suburban city in central Illinois that is located near I 74 and employs people at many different businesses, including Caterpillar Inc. In the last few years, the downtown area has been renovated.
In addition to being home to more than 23,000 people and a workplace for others, East Peoria is often a tourist destination. People come to see the largest July 4th fireworks show in Illinois, for the Illinois High School Association Softball Finals, to visit the Par-A-Dice Hotel and Casino, and to participate in other celebrations and East Peoria attractions.
If You're Injured in East Peoria
As is true in most any city in America, it's possible to be involved in an accident in East Peoria, whether you live here, work here, or are just passing through. This could be a motor vehicle accident, an accident on someone else's property, or an accident caused by someone else's negligent or intentional actions that resulted in a serious injury. After an accident, you have the right to:
A fair recovery. Illinois law allows you to recover for past and future medical expenses, lost income, out-of-pocket expenses, physical pain, and emotional suffering if someone else's negligence caused your injuries.
Work with an experienced Illinois personal injury lawyer. An attorney can advise you of your rights, negotiate a recovery on your behalf, and take your case to court, if necessary.
The days following an accident can be overwhelming, and you may make mistakes that could jeopardize your recovery. Don't let this happen to you. Instead, take action by scheduling a free, confidential consultation with our experienced attorneys. You can reach us via this website, by phone, or text at any time. Then, at the time of our meeting, we invite you to visit us at our Bloomington office.
Bloomington Office Directions
East Peoria Driving Directions
Taking I 74 E toward Bloomington.
Taking Exit 125 for US 150 Mitsubishi/Motorway.
Turning right on US 150 E (signs for Mitsubishi Motorway).
Turning right at the first cross street onto Mabel Rd.
Continuing onto White Oak Rd.
Turning left onto W Locust St.
Turning right onto N Center St/N Madison St, continuing to follow N Madison St.
Turning left onto W Washington St.
Turning left at the second cross street onto N Main St.
Our office will be in your right: 205 N Main St #302, Bloomington, Illinois.

Testimonials by Hupy and Abraham Clients
Hupy & Abraham, S. C. are very hardworking. They care about their clients and are honest. I would refer them to everyone I know.
Written by: Laura Lopez
about Hupy and Abraham
Date published: 07/4/2015
5 / 5 stars
Overall rating: ★★★★★ based on 1 reviews
To learn more, please contact us via this website or by phone at any time—24/7/365—to schedule your free consultation with a personal injury lawyer in our Bloomington office.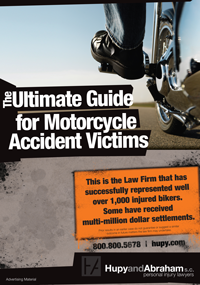 The Ultimate Guide for Motorcycle Accident Victims
Hurt in a Wisconsin, Illinois or Iowa motorcycle wreck? You need our ULTIMATE GUIDE FOR MOTORCYCLE ACCIDENT VICTIMS. Order your copy today for FREE.
Request Information +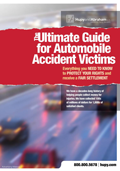 The Ultimate Guide for Automobile Accident Victims
This FREE guide contains everything you need to know to protect your rights and get fair treatment after a serious Wisconsin, Iowa, or Illinois auto accident.
Request Information +