Personal Injury Attorneys Serving Cedar Falls, Iowa
Cedar Falls, Iowa
Call 24/7/365 - We'll Come to You!
Toll Free: 1-800-800-5678
Open Always - Chat Live With Us Now!
Walk-In Hours:
The Wisconsin, Illinois, and Iowa personal injury attorneys of Hupy and Abraham know what you're dealing with after being involved in an accident. Whether you've been hurt in a Milwaukee car crash or Illinois motorcycle accident, you are facing some serious challenges and we're here to help.
Education, arts, and culture are a big part of the Cedar Falls, Iowa community. As home to the University of Northern Iowa and the Hearst Center for the Arts there is always something going on in the city. The student population of the University of Northern Iowa adds approximately 12,000 people to this city of approximately 39,000 residents.
In addition to the cars and other motor vehicles found on Cedar Fall's 217 miles of streets, there are many pedestrians and bikes. Cedar Falls is recognized as a bicycle friendly community by the American League of Bicyclists.
What to Do If an Accident Happens
Serious accidents are possible even in bicycle-friendly communities. One driver's negligence could result in a serious bicycle, pedestrian, motorcycle, or car crash. If you are the one who was hurt by someone else's negligence on the way to school, on the way to work, or while you were out running errands then you deserve to make a full and fair recovery.
A fair recovery is not automatic, however. Even if someone else was clearly at fault, you need to take action to settle your case with that person's insurance company or to seek a legal recovery in court.
You don't have to take action alone. Instead, you have the right to work with an experienced personal injury lawyer who will advocate for your full and fair recovery of medical expenses, lost income, out-of-pocket costs, pain, suffering, and other damages.
This representation will not cost you anything up front. Our lawyers represent clients on a contingency fee basis. That means that we are paid an agreed upon percentage of your recovery rather than an hourly fee. Thus, whether you are a student, a working person, or a retiree, you can seek justice without worrying about how to pay a personal injury lawyer.
To learn more, please schedule a free consultation with us in our conveniently located Cedar Rapids office.
Cedar Rapids Office Directions
Cedar Falls Driving Directions
Heading west on E 4th St toward Main St.
Turning right at the first cross street onto Main St.
Turning right onto IA 57 E/1st St.
Continuing onto US 218 S.
Continuing onto I 380/US 218 S.
Using the right two lanes to take Exit 71 to merge onto I 380 S/US 20 E toward Cedar Rapids/Dubuque.
Keeping right at the fork to continue on I 380 S/IA 27 S, following signs for Interstate 380 South/Cedar Rapids.
Taking Exit 20A toward US 151 BUS/1st St E/Downtown.
Turning left onto 1st NE/B Ave NE.
Turning left at the third cross street onto 3rd Ave SE.
Our office will be on your left: 222 3rd Ave SE, Suite 299-7, Cedar Rapids, Iowa.
Testimonials by Hupy and Abraham Clients
I have worked with Hupy and Abraham a variety of times promoting motorcycle safety and awareness, along with the Dont Text and Drive campaign. They surpass any other law firm in customer care and satisfaction!
Written by: Heather Stern
about Hupy and Abraham
Date published: 07/4/2015
5 / 5 stars
Overall rating: ★★★★★ based on 1 reviews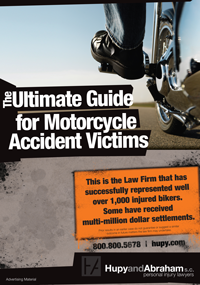 The Ultimate Guide for Motorcycle Accident Victims
Hurt in a Wisconsin, Illinois or Iowa motorcycle wreck? You need our ULTIMATE GUIDE FOR MOTORCYCLE ACCIDENT VICTIMS. Order your copy today for FREE.
Request Information +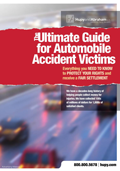 The Ultimate Guide for Automobile Accident Victims
This FREE guide contains everything you need to know to protect your rights and get fair treatment after a serious Wisconsin, Iowa, or Illinois auto accident.
Request Information +