Enter To Win CA$H This Holiday Season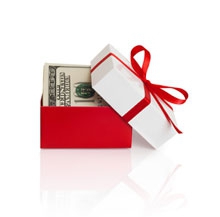 Enter to win cash this holiday season!
Every holiday season, Hupy and Abraham likes to get into the spirit of giving. That's why we have our Holiday Cash Contest.
Who couldn't use some extra cash to buy gifts, host a family feast or maybe even take a vacation?
Now is your chance to win some extra money during the holidays. We will be giving away cash each month November and December to a few lucky winners!
And, we're doing it again this year!
HOLIDAY CASH GIVEAWAY WINNERS
November 2017:

$100: Linda Hodel
$100: Rod Hoppers
$100: Ashley Merrill
$100: Flo Gundersen
$100: Kathleen Johnson

December 2017:

$100: Angie Brunette
$100: Mary DuPonte
$100: Dennis Zdroik
$100: Helen Garcia
$100: Robert Dowe
ENTER TO WIN!
Complete the quick form at the bottom of this page for your chance to win!
PRIZES
Winners will be awarded cash cards valued at $100.
RULES
ALL ENTRIES MUST BE SUBMITTED IN ONE OF THE METHODS ABOVE. ANY OTHER ENTRIES SUBMITTED IN A DIFFERENT METHOD WILL NOT BE ADDED TO THE CONTEST.
No purchase necessary.
Open to WI, IA and IL residents 18 years and older only.
Submissions must include name and email.
The promotion will run November 1, 2017 – December 31, 2017.
Prizes must be claimed within 15 days of the announcement.
Don't forget to "like" the firm on Facebook, to keep up with any relevant updates or contest news!
Don't Miss Your Chance To Win $100 Cash This Holiday Season
Five winners will be selected each month, from November 1, 2017 through December 31, 2017. You can enter as many times as you like!
Contact Us For
Free, no-obligation consultation
Get Help Now +
It can be hard to find the information you need if you have been involved in an accident or have suffered a serious personal injury. Our Wisconsin, Illinois and Iowa attorneys can help you with your personal injury case and provide guidance during your time of need. Call today at 1-800-800-5678 for more information.